mardis wrote:
Ooohhhh...these would look nice on a certain yellow 'vert.

How do they mount Mr. Chesnoe? Easy project? Or P.I.T.A.?
I would say it is a fairly easy install that one would want to be careful doing, but I have not done it myself, but watched it done a couple times.
They are not pre-drilled, and that is because there is some flexability in how one might choose to mount them regarding the amount of CF "lip" at the front of the car.
They require 3 or 4 holes to be drilled in each splitter (I have 3) and matching holes to be drilled from the bottom of the car under the front/side of the bumper cover. This is clearly done best with the car in the air, and having 2 people do it is best, with one holding the splitter and one marking for the holes.
Harware required to be purchased is 6 or 8 small bolts, and 12 or 16 washers.
The rubber trim around the bottom is not included, but is recommended, and available at any car parts store, as it is simply cut from a roll of door gaurd.
I have used a simple ramp of @10" to take off and reinstall the splitters after their initial install, and I am willing to bet that that would be far enough off the ground for the initial install as well.
When the splitters are off the car you can not see any of the holes that are used for the splitter install.
If you look at the following image you can see that there is about 1" of "CF lip" in front of the car. This is where the flexability in how they are mounted is up to the end user, as you could move them forward and have about 2" of "CF lip" if so desired.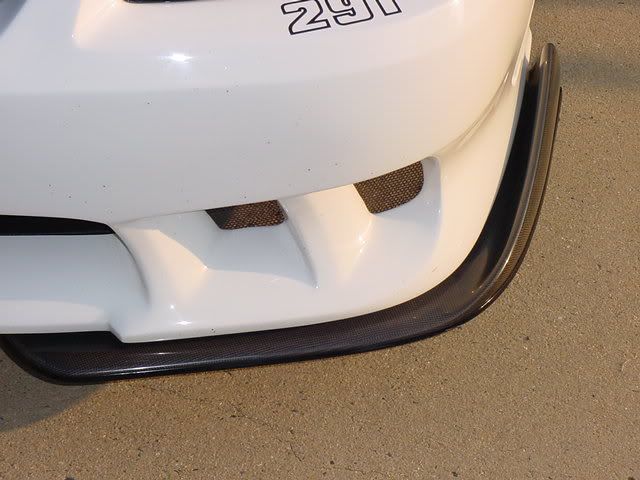 If you, or anybody else has any questions, please feel free to ask.